This story was first reported by the Chicago Sun-Times' David Roeder, and additionally reported by ABC7 Chicago.
Tim Masters, Zep's Vice President of Sales is accused of repeatedly referred to Black employees as "c**n asses" during a November training session, according to a complaint filed by a Chicago woman with the U.S. Equal Employment Opportunity Commission.
Zep Inc. is accused of delaying its response to a complaint made by the woman, who was the only Black employee in the training session. Then, nearly a month after she raised concerns to HR, Zep defended the corporate leader, telling her no one else was offended and that it was clear "you can't get over it."
The woman, who still works for Zep, then filed a discrimination charge with the EEOC. In addition to alleging a hostile work environment, she also alleges that Zep is engaging in discriminatory pay practices, assigning her with "dead" accounts only to then transfer the commission-based accounts she revives to white males.
Zep Inc. is an Atlanta-based company that manufactures and distributes cleaning products around the world. Among their 2,000 employees is a sales team based in the Chicago suburbs. Harmon-Beckwith joined that team six years ago. 
She was one of roughly a dozen Zep employees participating in the November online training session when VP Tim Masters prefaced his comments with "I don't mean to offend anyone, but…" and then repeatedly insulted certain Black employees as being "c**n asses."
Harmon-Beckwith alleges Zep defended the vice president, saying he had been there nearly 20 years and no one else had complained about his behavior. When she objected to its response, a company officer told her it was clear "you can't get over it," then offered her a severance agreement that included eight weeks' pay.
"I expected Zep to take this matter seriously, as an opportunity to change its corporate culture," says the woman. "Instead, Zep defended him and told me to go be quiet in a corner. I was humiliated and made to feel like, by complaining, I did something wrong."
"Despite publicly pledging a commitment to diversity and inclusion, Zep internally condones the use of racist, insulting, and illegal conduct by its corporate leaders. We look forward to an inquiry into its pay practices and are determined to hold Zep accountable," says the woman's attorney, Chicago-based institutional abuse and women's rights attorney Tamara Holder.
The filing of an EEOC charge is the first required step in the legal process for a federal discrimination complaint. Harmon-Beckwith's filing includes numerous emails from Zep Inc. leadership acknowledging the incident and diminishing the impact of the slur.

**********
If you have information about Zep Inc., please contact Tamara Holder at contact@tamaraholder.com or 312-440-9000.
August 15, 2022: As reported by PBS/WTTW's Nick Blumberg, dozens of Amazon warehouse workers allege a racially hostile work environment: confederate flag outfits, death threats to Black workers, and other allegations are detailed.
Amazon Employees Say Company Retaliated After Charges of Racially Hostile Work Environment
Late last month, 26 current and former employees of a Joliet Amazon warehouse accused the company of allowing a racially hostile work environment. They've since been joined by a dozen more workers, who've filed charges with the Equal Employment Opportunity Commission that outline racist death threats against Black employees – and some of those employees also say they've faced retaliation from Amazon since speaking out.
On May 25 – just days after the grocery store mass shooting in Buffalo that's believed to have targeted Black residents – employees at Amazon's MDW2 distribution warehouse in Joliet say they found graffiti threatening the lives of Black workers.
"We were told that we could go home with no pay … or we could stay there and keep working," said former Amazon employee Tori Davis. "We were put in a predicament where we still were in fear every day."
Workers say Amazon didn't send a message to employees until nearly 24 hours after the threat was found. And Tori Davis says she was fired after talking with coworkers and demanding action from management.
"We're not going away until they take this seriously," said attorney Tamara Holder, who represents the workers in their complaint to the EEOC. She's since taken on clients at an adjacent Amazon facility in Joliet, MDW4. The graffiti isn't the only instance of discrimination alleged in the charges.
"Men wearing Confederate flag outfits in the workplace with impunity. Complaints from workers about other workers using the N-word with impunity," Holder said.
An Amazon spokesperson told WTTW News, "Amazon works hard to protect our employees from any form of discrimination and to provide an environment where employees feel safe. Hate or racism have no place in our society and are certainly not tolerated by Amazon."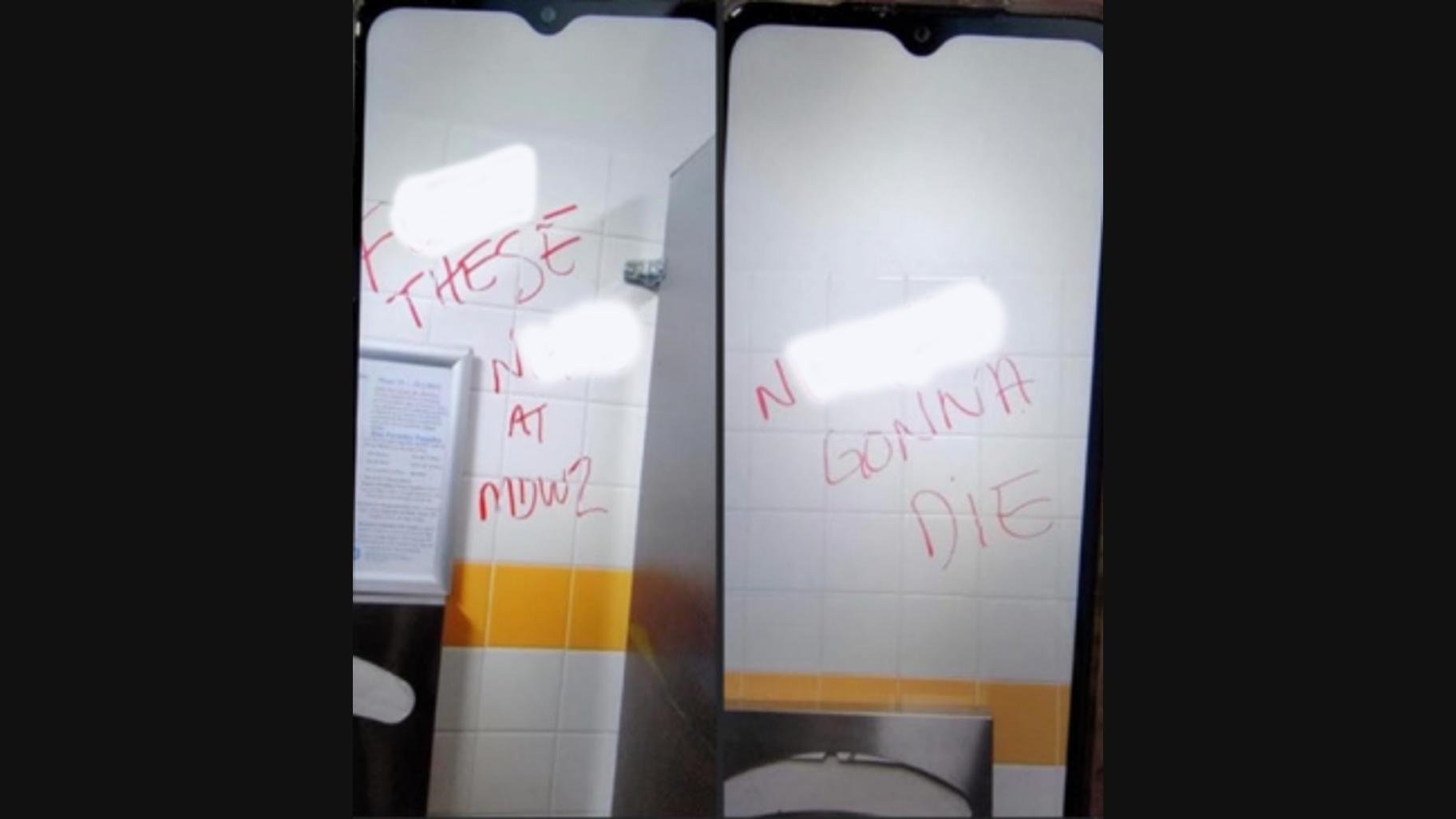 An image included in an EEOC complaint against Amazon shows racial slurs written in a bathroom of the Joliet facility. The racial slurs have been blurred out by WTTW News. (Complaint Provided)
Holder also says Amazon has threatened and fired workers who have spoken out, saying they violated a confidentiality agreement they signed upon hiring.
"The contract is written for somebody who would have trade secrets," Holder said. "This confidentiality agreement was not made for low-wage warehouse workers. But I believe it's a tool to silence those workers."
Nicole Porter, a professor at Chicago-Kent College of Law, says confidentiality agreements are a widely used method for companies to protect their trade secrets from competitors.
"If (they) have special procedures that have turned out to be very efficient and effective, you're not allowed to talk about any of that," Porter said. "Lots of employers do have employees sign confidentiality agreements, that's actually quite common."
But Porter says they can't be used to stop employees from speaking out about their workplace. As for the EEOC charges, among other things the plaintiffs have to prove the racism was pervasive, unwelcome, and that the company failed to act. But it could be a long legal road ahead.
"The EEOC has the opportunity to investigate – and something, I think, like this where it's several plaintiffs complaining about it, the EEOC will take that more seriously than they might just one individual employee bringing a claim," Porter said.
The EEOC might file a lawsuit, it might call for mediation, or it might leave it to the plaintiffs to sue. As for the threats workers say they've faced for speaking out: "The employer cannot retaliate against any of the employees that filed the charge simply because they filed a charge, (but) proving that causation piece is sometimes difficult," Porter said.
And when it comes to the EEOC charges, Holder says: "We are going to continue to gather as much information as it takes to make sure Amazon listens to us and fixes this work environment."
An Amazon spokesperson did not respond to follow-up questions about worker claims of retaliation or the company's confidentiality agreement.
Contact Nick Blumberg: nblumberg@wttw.com | (773) 509-5434 | @ndblumberg
This story was first reported by Aimee Levitt in Eater Chicago.
When Claire Henry began working as the marketing and programming director at the Ace Hotel in Chicago shortly after it opened in Fulton Market in the fall of 2017, she was excited by the possibility of creating a space where all sorts of people could come together to appreciate music, art, and food. To Henry, who was fresh out of grad school, it felt like a grand experiment, and she immediately began reaching out to artists and DJs to schedule a full slate of parties, talks, and exhibits.
Now, four and a half years later, the Ace has left town, and Henry, who says she was asked to leave her job in September 2020, is suing the hotel chain for defamation of character, corporate negligence, and infliction of emotional distress. The Ace's ethos of diversity and inclusion was just a facade, and behind the scenes, the chain's management was guilty of mistreating and even abusing its workers, specifically its workers who are Black, Indigenous, and people of color (BIPOC), her lawsuit argues, with specific examples gleaned from social media claims. Instead of taking responsibility for its culture, the lawsuit argues the Ace used employees like Henry, who is white, as scapegoats.
"Ace hires young, enthusiastic, excited people who really need [the brand] on their resume," Henry says. "They need the connection, and they're not in a position to fight. It feels like bullshit that these people are left hurt and damaged by a company that propped themselves up on the idea of community and connectedness and inclusivity. I got to a point, as so many employees who have made complaints have done, where you either stop talking about it, or you realize that this is how they continue to get away with this behavior." That is why, she says, there are so many other complaints besides her own in the filing.
General counsel Meriem Soliman wrote in an email to Eater that the Ace was unable to comment on ongoing litigation.
During the first year of Henry's tenure at the Ace, everything seemed to be going well. Henry said she received praise for her work from Ace's management and members of the community. She sometimes felt overworked, underpaid, and undersupported: Her starting salary was $63,000 and she was expected to manage not only the hotel's slate of programming — between three and 10 events a week — but also its branding in Chicago, with the assistance of only one other person, a social media manager. Still, she also felt like she was doing important work, partnering with interesting people, including singer-songwriter Zola Jesus, rapper Anderson .Paak, and the late artist and designer Virgil Abloh. The hotel also hosted a panel event with Eater Chicago back in 2019.
Henry says that she was always "hyper aware" of her race as she built the hotel's schedule of programs. She wanted to make sure that the Ace was a place where all Chicagoans would feel comfortable. "I did not want to do programming that was reflective of just my perspective and who I was," she says. She worked with DJ bookers to hire DJs to play a variety of music; she hoped that by hosting regular dance party nights, both they and Waydown would develop a following. Waydown was the first rooftop bar in Fulton Market, then a slightly out-of-the-way industrial area, and part of Henry's job was helping it find its place in Chicago.
Her work did not go unnoticed. "Ace Hotel helped fill a gap in the limited number of nightlife options for Black Millennials, thanks to a host of creatives and thoughtful staffers who centered our needs," wrote the Triibe, a website that describes itself as "reshaping the narrative of Black Chicago and giving ownership back to the people." The Triibe specifically singled out Waydown (which was later renamed Little Wild) in its article.
Henry's official title at the Ace was "cultural engineer," one she and her counterparts across the chain disliked, she says. It made them sound like they were engineering, or manipulating, culture, and it didn't quite specify their place in the management hierarchy. They asked upper management for a better title that more accurately described the work they actually did: managing the hotel's brand and cultural programming, not determining what the culture of the hotel was to be. But Henry says in the lawsuit their requests were ignored.
In late 2018, the Ace Chicago hired a new general manager, Jesse Boles, who wanted to revamp aspects of the hotel that he felt were faltering. One of those was Waydown. Boles and his managers at Ace's corporate headquarters felt the bar had too much of a club atmosphere, Henry says; they envisioned it as something more like a cocktail bar. In mid-2019, they drew up a list of music that they no longer wanted played there. This included trap music, a popular hip-hop subgenre that features intense instrumentals (characterized by sharply accented hi-hats and rumbling sub-bass) and raps about street life. The music was one of the main draws for the young, Black crowd who came to the venue to dance. (The Ace's list of music to be cut also included country pop.)
Henry told management that she thought this decision would be "dangerous," and would create racial tension within the staff and with the public, but she says they ignored her. Instead, they left it to Henry to break the news to the staff, who assumed that the decision had been hers and that it was racially motivated. Neither of these things, she says, was true. She asked Ace's management to clarify who had made the decision, but, she says in the lawsuit, they ignored her request, and the staff continued to believe that Henry wanted to discourage Black people from coming to Waydown. When customers complained about the removal of trap music on social media and in person, the Ace didn't respond, according to the lawsuit; ​​the bad feelings festered and were increasingly directed toward Henry.
In May 2020, after George Floyd was murdered by Derek Chauvin, a Minneapolis police officer, the frustration among BIPOC workers boiled over. While other companies across the country were openly declaring their support for the #BlackLivesMatter movement in the form of public statements and donations, it took nearly a week for the hotel chain to post
a message on its corporate Instagram account
 that vowed to "take a hard look inward to identify racism and inequality within our own house."
Ace employees from across the chain responded to the post with a litany of complaints and anecdotes about racism within the hotel's management, which were cited in Henry's lawsuit. Black workers claimed they had been harassed and punished for behavior for which their white colleagues were praised. An unnamed former manager of the Ace Chicago's restaurant, City Mouse, was quoted in the lawsuit as saying they had specifically been told by upper management not to hire BIPOC workers.
According to the lawsuit, Henry and her fellow so-called cultural engineers felt that, given their role, which required plenty of interaction with both the hotel staff and the community, they were best-suited to report to upper management on the general mood, both inside the hotel and out. Instead, Boles held a meeting with the staff at Waydown to which Henry was not invited.
The following day, according to the lawsuit, Boles sent an email to the staff acknowledging "that many systems and policies designed to address employee issues have an inherent bias toward existing structures and, as a result, do not do enough to support vulnerable groups" and vowing to do better. In response, an Ace Chicago bartender sent an email to all Ace employees worldwide; it included a Google doc created by Waydown staff that claimed that Henry had "advocated" for the removal of trap music, and also included a list of demands that called for "reform of the 'Cultural Engineering' department and for current head at Ace Hotel Chicago, Claire Henry, to be TERMINATED."
In an Instagram post at the end of July, the Ace said it was listening and taking action, including instituting implicit bias training, salary reviews, listening circles, and investigation of all allegations. One of the first of those investigations was of Henry, specifically her role in the removal of trap music. The Ace's CEO, Brad Wilson, had already announced in an email to the entire organization that Henry would be "investigated for inappropriate bias and racism," and if she was found guilty, she would be fired.
In July, Henry was interviewed by an outside investigator, and in August, she says she was told by the investigator and the Ace's head of HR that they found that her behavior had not been racist or biased. Henry, and later her lawyer, Tamara Holder, asked the Ace to send a message to all employees clearing her name. Instead, in September, the hotel handed her a separation agreement, ostensibly because of "reduction in workforce," and offered her a payment of $3,930.82 in exchange for waiving all claims against the company, according to the lawsuit. The agreement arrived just as Henry was about to go on furlough, so she was never given a chance to explain her departure to her coworkers.
"They needed to say, 'We need to fix that,'" says Holder. "[They needed to say to the employees] 'Look, we're sorry that Claire looks this way to you. This is what she's done. Let's have a conversation about the trap music issue.' Because that's what a family and a community does."
For Henry, what happened to her is just one example of the way she says the Ace had mistreated other employees. "It's not just one employee who is voicing concerns and having issues," she says. "This is a larger problem of the way this company treats their employees and how they want you to feel part of a tight-knit, close community and celebrate art and diversity and inclusion. But when they were faced with a large culture and social upheaval, they failed to rise to the occasion."
Henry is asking for $50,000 in damages, less than the equivalent of what she earned each year working at the Ace. She's been able to continue working in the arts and interior design, in a far less public role. But both she and Holder feel it's important that the Ace should answer to her accusations and explain the discrepancies between its rhetoric of inclusion and the way it actually treated its employees, and why no one responded to Henry's many requests to officially clear her name.
Holder filed the lawsuit on January 21. The Ace has yet to respond.
*******
If you have information about Ace or Atelier Ace, please contact Tamara Holder at contact@tamaraholder.com or 312-818-3850.
This story was originally reported by Emilie Shumway in HR Dive.
Dive Brief:
An employee of a Georgia branch of waste management company Republic Services has filed a charge of discrimination against the company with the U.S. Equal Employment Opportunity Commission.
According to the complaint obtained by HR Dive — and an interview with the employee's attorney, Tamara Holder — the employee, a Black, female operations manager, was showcased regularly by the company as a face of diversity, while experiencing racial discrimination in the workplace. The employee described receiving assurances she would be promoted, only to be told that despite being "clearly the most qualified for the role," the company "wanted to go in a different direction," which turned out to be a "white male with far less experience." The employee also described hearing racist remarks and then being fired upon complaining. The worker alleged retaliation in addition to racial discrimination.
"While we generally do not comment on pending legal matters, Republic Services has a longstanding commitment and proven track record of maintaining a strong culture of inclusion and diversity," Republic said in a statement provided to HR Dive.
For those engaged in DEI work, a major focus is ensuring that public proclamations translate into meaningful progress behind the scenes. Holder said her client's claim is an example of a failure to take such work seriously.
"What I'm determined to show is that now this creates another layer of liability beyond just discrimination," Holder told HR Dive via phone on Tuesday. "These companies are engaging in negligent conduct … they are claiming to be something that they aren't."
According to the complaint, the employee received recognition for good work before her dismissal, including a Manager of the Year award and several excellent performance reviews. She was 1 of 6 Black employees selected from among the company's approximately 50,000 workers to participate in the McKinsey Black Leadership Academy Management Accelerator Program, the complaint noted.
She was also "paraded around" as a face of diversity, Holder said. She was asked by Republic to write a letter in defense of the company when a Teamster chapter vice president referred to it as a "plantation owner." Republic displayed the letter throughout the workplace, the complaint said.
Despite these accolades, and assurances she would be promoted, the worker was passed over for a less qualified, White, male employee, the complaint alleged. It cited two examples of other female workers of color who also were passed over for "less-qualified males." The employee also complained of racist language in the workplace, including a co-worker referring to Black drivers as "dem boys," among other racially motived comments.
In lodging complaints, the employee followed the procedures that had been laid out in a flow chart, Holder said, and "did everything she was supposed to do." She used the employer's "AWARE line," Holder added, which Republic describes as a toll-free employee hotline that "is available for all employees to raise concerns if they are uncomfortable speaking directly with their supervisors or any other member of management or wish to remain anonymous."
"They investigated her instead of her complaints," Holder said. The employee was terminated approximately one month later for what Republic cited as "irreconcilable differences."
While Holder and her client are waiting for the EEOC to investigate, they intend to follow through on the case if the agency declines to pick it up. "We will be filing suit," Holder said. "We're not relying on the EEOC."
*********
If you have information about Republic Services, please contact Tamara Holder at contact@tamaraholder.com or 312-818-3850.
This week, The Law Firm of Tamara N. Holder, LLC filed an EEOC charge on behalf of our client, against Look Sharp, a Bowling Green dry cleaning company, for discrimination after the company's owner, Trae Hill, terminated a new mother from employment because the job was "not the healthiest environment for someone still nursing a baby."
Yet, Look Sharp publicly claims to be "the greener dry cleaner" and that its form of cleaning clothing is "safe, effective and smart."
Mr. Hill terminated the young mother from employment via text, telling her:
"I really appreciate your enthusiasm in wanting to be a part of our team. However, I don't feel that our environment is the best thing for you, especially only 8 weeks after becoming a new mom and still providing milk to your new baby. As you know, the position requires you to be around a lot of chemicals and breathing them on a consistent basis would not be the healthiest environment for someone still nursing a baby. So I'm sorry, but I have to let today be your last day with us. I have no doubt there are more suitable jobs for you out there."
When the young mother objected to her firing, Mr. Hill said, "My only concern was the sincere safety of Ms. Miranda's weeks-old baby, whom she was still nursing at the time. It's alarming to consider even the possibility of a potential impact and possible long-term effects on a newborn."
We believe our client was illegally fired, in violation of the Civil Rights Act of 1964, as Amended, and Kentucky Civil Rights Act, and look forward to an investigation by the EEOC and Kentucky Commission on Human Rights.
A former NorthShore University HealthSystem/Swedish Covenant obstetrics and gynecology doctor - Fabio Ortega, 75 – has pleaded guilty to sexually assaulting one of our clients, and another woman, during closed-door exams, in 2016 and 2017. In exchange for his plea of guilty, to two counts of felony Aggravated Criminal Sexual Abuse, Ortega was sentenced to three-years in the Illinois Department of Corrections.
After his plea, our client made a Victim Impact Statement to Ortega and NorthShore's lawyers, saying, "You have broken me. You haunt my dreams and creep into my most intimate moments. I am a shell of my former self. I'm not living, I am barely surviving day to day... No matter what I do, how much medicine I take, how many times a week I see my therapist, how many people I surround myself with, this will forever be my new identity. I will always be a victim but I am hoping that one day I will learn to be a survivor." Ms. Doe 3 is available for further comment.
The NorthShore/Swedish female patients allege that Ortega engaged in the following perverted conduct behind closed-doors:
Ortega penetrated his fingers into female patients' vaginas;
Ortega grabbed female patients' breasts;
Ortega asked female patients' sexually perverted questions;
Ortega touched female patients' anuses;
Ortega called female patients late at night, in an effort to groom them.
The lawsuits also allege that NorthShore's top officials - including its head of the Gynecology and Obstetrics Department - allowed Ortega to continue to work despite knowing he was under criminal investigation for sexual assault. Then, NorthShore allowed Ortega to quietly retire rather than fire him. The women's claims span over the years of 1996-2017.
"Ortega's guilty plea would not have occurred without the help of many people outside of the NorthShore system. We are so thankful for the investigators at Skokie and Lincolnwood police departments, the prosecutors with the Cook County State's Attorney's office. These are the people who believed Ortega's victims. NorthShore did not. Instead, NorthShore and Swedish choose profits over patient safety. They ignored the cries of their female patients. They harbored a sexual predator.
And still, even after Ortega's guilty plea, they refuse to apologize to the female patients who were abused under their roof. NorthShore and Swedish continue to gaslight Ortega's victims and say they are not liable for his abuses. In court filings, NorthShore/Swedish have made a litany of defenses, including that Ortega's conduct was proper; that the women are confused or lying; and, that NorthShore/Swedish are not liable because the women's claims are time-barred by the statute of limitations. We are determined to end the institutional abuse of women who put their lives into the hands of their healthcare providers," says Chicago-based attorney Tamara Holder.
To date, Ms. Holder and her co-counsel Johanna J. Raimond have filed a combined 14 lawsuits against NorthShore and Swedish. Currently, there are seven pending lawsuits against NorthShore, and two pending lawsuits against Swedish Covenant, where Ortega worked before NorthShore. NorthShore has settled at least 6 lawsuits since 2019.
If you have additional information about NorthShore or Ortega, please contact us at: 312-818-3850 or email: contact@tamaraholder.com.
According to a federal lawsuit The Law Firm of Tamara N. Holder, LLC filed on behalf of Heather Cummins, our client alleges she became an employee of publicly-traded GFL after it purchased Waste Industries, including her Clarksville, Tennessee location.
Now, in GFL's attempt to be dismissed from the case, Vice President and General Counsel Mindy Gilbert filed an affidavit stating:
Cummins was not an employee of GFL
GFL "does control operations or personnel of Waste Industries"
GFL "has never operated, conducted, engaged in or carried on business in 

Tennessee

"
GFL "does not maintain a place of business or have any employees in 

Tennessee

"
In response to the filings, Cummins says, "Nothing makes me feel more worthless than GFL's denial of my very existence and my contributions to the company that once recognized me as #1 for sales in my region."
Cummins alleges she believed she was a GFL employee for multiple reasons, including but not limited to:
GFL CEO 

Patrick Dovigi

 offered Cummins an opportunity to purchase IPO shares "for our employees on a priority basis"
Dovigi told Cummins "I believe in GFL and the value that all of you as our employees bring to work every day"
Waste Industries CEO 

Ven Poole

 joined GFL's board of directors
In SEC filings, GFL included 

Tennessee

 on its map of "strategically-located facilities"
Cummins was instructed to wear a GFL name tag & her email was changed to @gflenv.com
GFL instructed Cummins to sell its services to 

Tennessee

 customers
Waste trucks in 

Tennessee

 were repainted the GFL logo
GFL posts jobs in 

Tennessee

 on its website
GFL posts former Waste Industries' 

Tennessee

 locations on its website
Cummins filed suit against Waste Industries and GFL, in the United States District Court, Middle District of Tennessee, alleging she was told she had to resign, agree never to work for the company again, abide by a non-compete, and sign a confidentiality agreement if she wanted to be compensated for sexual harassment she endured by her supervisor, Chad Keelean.
Cummins is represented by Chicago-based attorney Tamara Holder who focuses her practice on institutional abuse and multi-plaintiff litigation. She is a nationally recognized voice on workplace equality and worked as progressive legal analyst and host on Fox News Channel for nearly a decade.
Our former employee of a publicly-traded, Toronto-based waste management company is suing the company for telling her that she would have to resign and "agree" to never work for the company again if she wanted compensation for being sexually harassed on the job.
Ms. Heather Cummins - who was hired by Waste Industries, in 2018, before it was acquired by GFL Environmental (NYSE: GFL) - filed a discrimination lawsuit against the company on June 22, 2021, in the U.S. District Court for the Middle District of Tennessee. In her complaint, Ms. Cummins alleges that, immediately after she was hired for a sales position in Clarksville, Tennessee, her general manager, Chad Keelean, sexually harassed her, propositioned her, and asked her to send pictures of herself to him, over the course of approximately eight months. Ms. Cummins states that when she rejected Keelean's advances, he would gaslight her by saying that he was "just joking," and brag about his clout in the industry.
Ms. Cummins further alleges that when she complained to GFL, the company offered to compensate her but, in exchange, she would have to:
'agree' to resign from her job;
'agree' to never work for the company again;
abide by a non-compete agreement; and,
agree to strict confidentiality.
Keelean, on the other hand, was allowed to depart from GFL without a non-compete agreement. In fact, Keelean has since built his own waste disposal company in the same region as GFL.
Ms. Cummins, a Tennessee native and married mother of three children, says she filed a lawsuit because, "GFL attempted to punish me for its own failures. Rather than protect me, it resorted to an attempt to silence me, ruin my career, and destroy my livelihood. These kinds of 'agreements' are archaic, should be illegal and against public policy."
Ms. Cummins is represented by Chicago-based attorney Tamara Holder who focuses her practice on institutional abuse and multi-plaintiff litigation. She is a nationally recognized voice on workplace equality and worked as progressive legal analyst and host on Fox News Channel for nearly a decade. If you have information about GFL Environmental that you believe may help our case, please contact us. 312-818-3850 or contact@tamaraholder.com
NorthShore University HealthSystem has settled with three more of our clients who claim they were sexually assaulted by Dr. Fabio Ortega, an OB/GYN who practiced at NorthShore's Skokie, Evanston and Lincolnwood offices, and Evanston Hospital.
One NorthShore University HealthSystem patient alleged she was sexually assaulted by Dr. Ortega at Evanston Hospital just house after she gave birth to her daughter. That patient, and another patient, claimed that NorthShore knew about Ortega's sexually perverted conduct and allowed him to see patients even while he was under investigation for sexual assault. In fact, Dr. Richard Silver who heads the Department of Obstetrics and Gynecology met with Ortega and continued to allow him to see women without a chaperone. Allegations include touching women's vaginas, grabbing their breasts, and asking them sexually perverted questions under the guise of performing proper pelvic exams.
Ortega is facing two charges of sexual assault in Cook County. NorthShore continues to stand-by gynecologist Dr. Ortega and is defending itself, and him, in legal proceedings. Swedish Covenant Health where Ortega worked before going to NorthShore is also defending Ortega is two lawsuits.
If you have information about Fabio Ortega, please contact us: contact@tamaraholder.com
The Law Firm of Tamara N. Holder, LLC 312-818-3850